SYNERGIES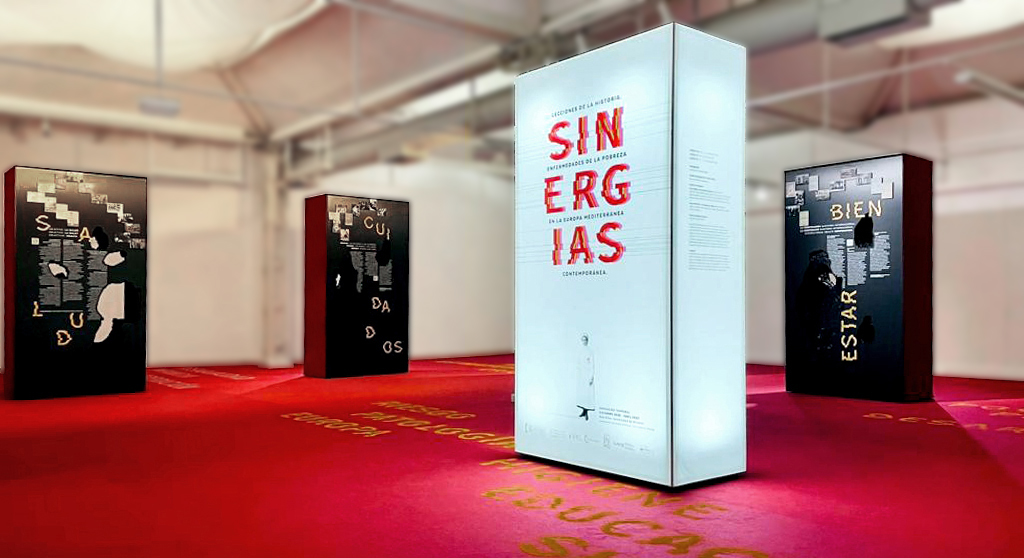 DISEASES IN CONTEMPORARY MEDITERRANEAN EUROPE
1_Universityof Alicante, Alicante 2_University Hospitalof Vinalopó
Synergies is a social exhibition, but with a medical-scientific background and a powerful message: the eradication of infectious diseases associated with poverty thanks to education and social policies.
With a room of 110 meters and a contained economy, a base support was designed that gathers the scientific background from a formless and sinuous, organic perforation that emulates the disease, the advancing infection, on the cleanliness of the parallelepipeds that serve as support for the exhibition. The exhibition contents are adapted to the lost spaces of the support that, from the drilling, propose crossed glances through each of the milestones. These make sense as a whole and interconnected, where the carpet is another plane of communication, agile and effective.
Location: Sala Aifos, University of Alicante Curator: María Eugenia Galiana-Sánchez Production and assembly: Proyectable Design: Rocamora Diseño y Arquitectura Collaborators: Grupo Balmis, Grupo SANHISOC, Cátedra Emilio Balaguer, Instituto López Piñero, Instituto Universitario de Investigación en Estudios de Género and NISALDes .