LA UNIÓN MINING MUSEUM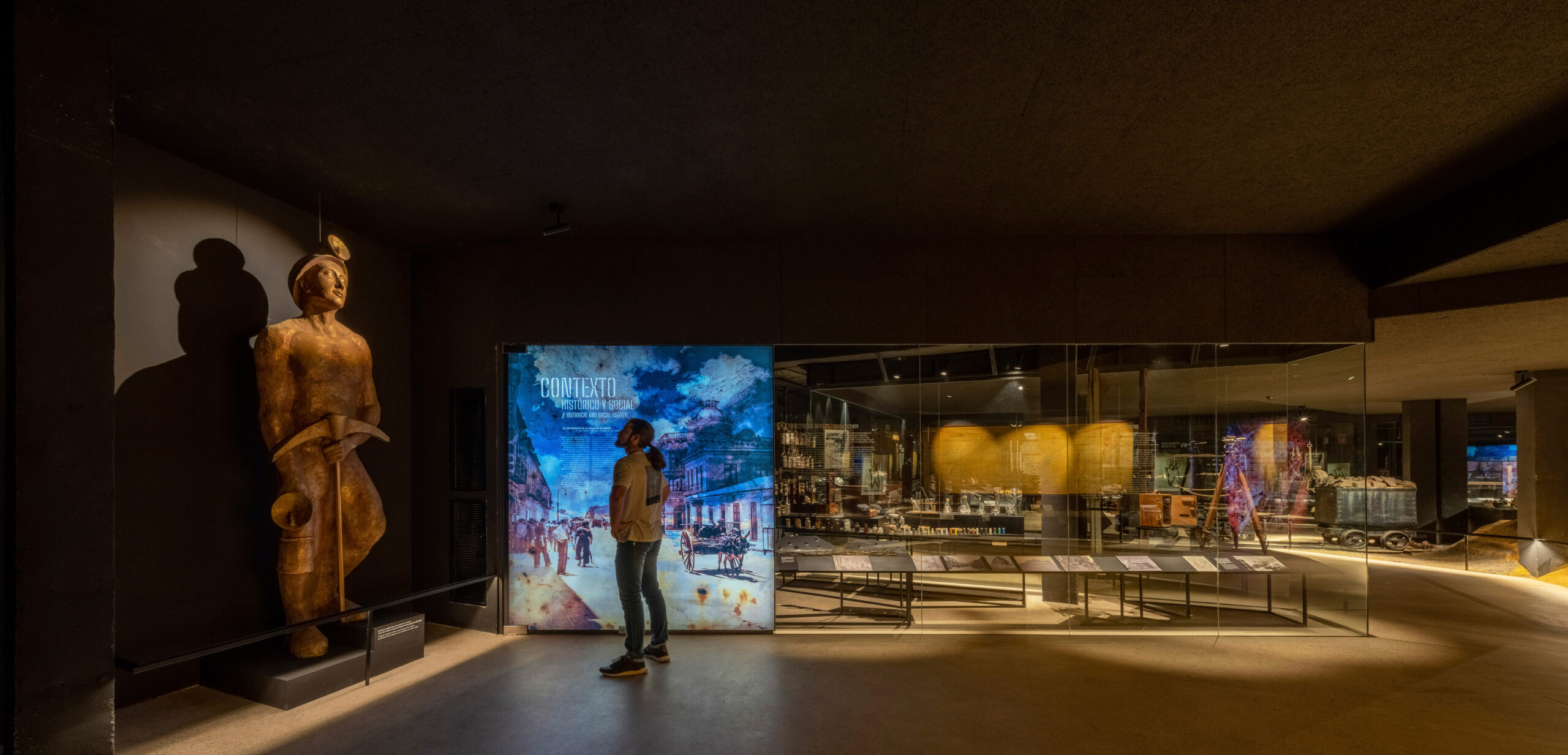 HISTORY OF THE SIERRA MINERA IN CARTAGENA – LA UNIÓN
Client: City Hall La Union Date: 2023 Categories: Ethnography, Permanent Exhibition
The Mining Museum of La Union puts in value the scientific and historical aspects of the mining activity of the municipality, and collects the history of mining from ancient times to the last years of activity in the twentieth century, showing its importance and influence on the landscape, society and mineralogical values of the territory unionense.
The exhibition discourse is developed on the basis of an immersive museography that is committed to an experiential type of didactics. In addition to the mining process, the discourse delves into the social landscape of the time, the emergence of this population and the structuring of classes, the political and trade union development around this industry, as well as its reflection in the urban fabric or in the architecture of La Unión.
The tour begins on the first floor, with a reception area where the last original winch of the Sierra Minera de La Union is exhibited, more than 15 meters long and more than a hundred years old, rescued from the mountains and restored by the General Directorate of Cultural Heritage.
The visit continues in the basement and offers a circular tour through the different themes and areas, with a central scenography of a mining operation with the contribution of real material. This floor has no natural light, seeking the sensation of immersion, of living the mining experience, where the general lighting is entrusted to the residual light of showcases for objects and exhibition graphics, formed from light boxes backlit with printed textiles containing information. This lighting situation coexists with the guarantee of adequate conditions for the visualization of the exhibited collection and an optimal temperature control according to the demand of the exhibited pieces in each case.
An opening under the historic winch connects the two floors and allows to stage the ascent and descent of the water or mineral transport vats from a faithful reconstruction.
The exhibition colonizes a space of almost two thousand square meters that offers a unique first-hand experience of the history of the Mining Industry and the important activity that has been carried out in this municipality for more than 2000 years through unique pieces, original elements of Union mining integrated into the scenery, photographs, plans, posters and audiovisuals, as well as a collection of 200 minerals.
An immersive museography, with historical and scientific rigor, with a great didactic and informative load, which includes the gender perspective in its discourse, recovering the role of women in the mining environment. An exhibition discourse that not only exhibits the history of mining from a scientific and industrial perspective, but also promotes a commitment to the environment, recovering the serious events of the Portmán disaster, and places the main focus on the social landscape and the role of women in the productive and transformative process of this society.
Location: La Unión, Murcia Promoter: City Hall La Unión Commissariat: Sierra Minera Foundation Architect: José Manuel Chacón Bulnes Technical Architect: Álvaro Lorente Carreras Architect Museography: Rocamora Design and Architecture Collaborator: Luis Martínez Reina Engineering: GTM Ingeniería Contratas: CYDEMIR and Intelligent Heritage Architect of Museography: Rocamora Diseño y Arquitectura Building Architect: José Manuel Chacón Bulnes Photographs: David Frutos
Publications: Information, El Español, La Verdad, Flat Magazine, Onda Regional Murcia